If your bike is your first love and partner of your life, after that you must take your beauty out of the city chaos, the mountains and into lavish greenery that some of the richest trails and ranges of India has. Thought about to be one of the most difficult routes to attempt by bikers, Manali-Leh Ladakh is also known to be one of the most satisfying one encompassing a stunning valley in Manali and also a magnificent peak in Leh. Your Leh Ladakh bike trip is insufficient without keeping these tips in your head as it will make your trip a successful one with the best essential factors in mind.
Leh Ladakh Bike Trip Highlights
Drive to Jispa, via Rohtang Pass
Thiksey and Shey Monastery, Leh
Shopping in the bazaars of Leh
Visit to the beautiful Pangong Lake
Ride on the popular Khardung La pass
Admire the breathtaking scenery
Ride on meandering roads of the Kullu Valley
Bike ride on Baralachha Pass to reach the camp site in Sarchu
About The Region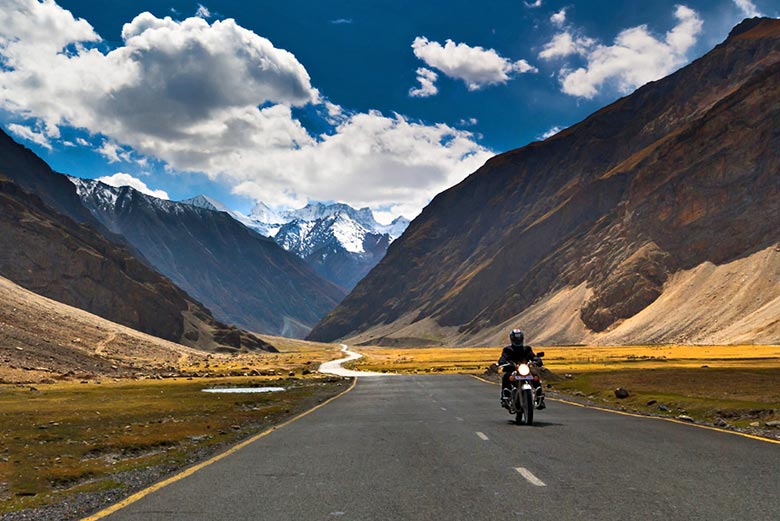 Jammu, Kashmir and also Ladakh cover most of Northern Himalayan region – which has a landscape as well as moonscape like no anywhere else. It is mostly a journey with the wind in your face – spiced with adventure, nature, and culture, to some of the most gorgeous and also tough parts of the world.
Leh – Ladakh is the land of abundant beauty and also the experiences that it's soul touching. These are experiences that will let you connect with on your own and also the marvelous visions are such that you would certainly cherish for a lifetime. Now that you are well geared up with all the necessities, get ready for an enthralling trip!
Which month is best to visit Leh Ladakh?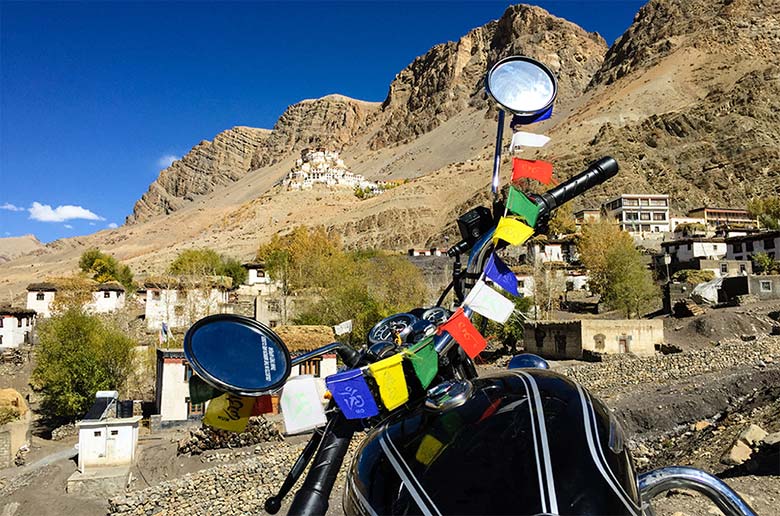 Season (Month) Wise Best Time as well as Way to See Leh (Ladakh)
1. April to Mid-May
2. Mid May to July.
3. August to Mid-September.
4. Mid-September to Mid-October.
5. Mid October to Mid-November.
6. Mid-November to March.
Best Time to Visit Leh Ladakh on a Bike Trip
The best time to go on a bike trip to Leh Ladakh is from the months of June to September. These months enable the bikers to enjoy the best of Ladakh, as long as they appreciate their bike journey to Lahaul & Spiti. However, most of the bikers love to kick-start their brand-new year with this crazy bike journey as Ladakh provides wonderful panoramas which can be cherished round the year except for monsoon season.
Perfect Duration for a Bike Trip in Ladakh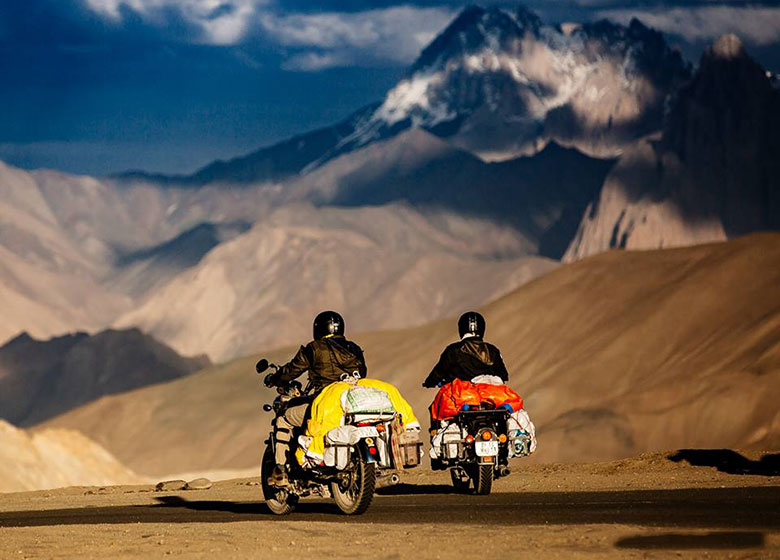 The days needed for Ladakh bike tour totally depends upon the route you take and what you would like to cover on your expedition. While you can begin your bike tour from Delhi, there is an option to begin your thrilling expedition from Manali or fly to Leh and also begin your bike tour in Ladakh.
For a bike tour to Ladakh from Delhi, the time required for would be 15-18 days, while From Manali you can cover a lot of areas in 10 days. If you fly to Leh as well as begin your bike tour after that it would certainly take 7-8 days to have an unforgettable experience.
So, depending upon the route you picked as well as the places you would like to stop at a Ladakh Motorbike scenic tour requires 7-18 days.
Which bike is best for Ladakh trip?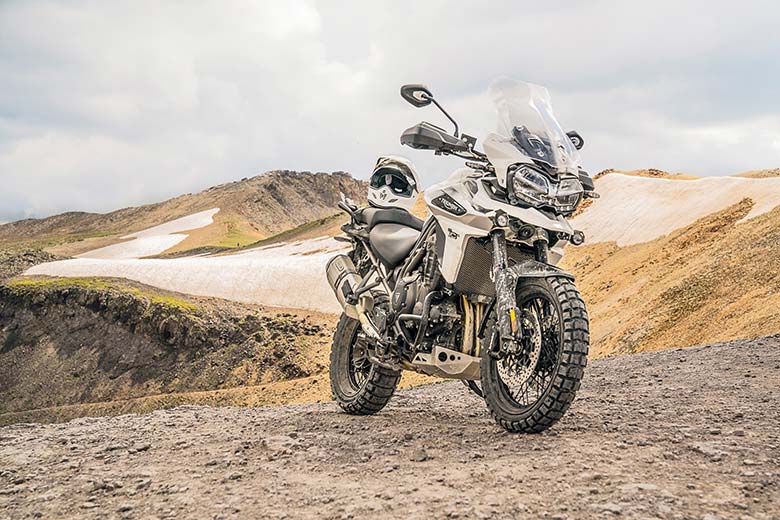 Talking about the first things first, every biker must give his or her overall focus to their first love, which is their bike. So whenever you're choosing a bike for any kind of journey make sure you opt for suitability more than popularity. Consider it one of the most important aspects of your Leh Ladakh trip!
Hence, The Five Best Bikes For Leh Ladakh Bike Trip Are:
Royal Enfield – A powerful bike with an engine of either 350 CC or 500 CC is enough to be a lifesaver on road trips.
Royal Enfield Himalayan – With a strong engine of 400 CC, Royal Enfield Himalayan will make your trip smooth and also hassle-free on any rugged trail and offbeat roads.
Bajaj Pulsar – By far, no bike has been a hit in the Indian market when compared to Bajaj Pulsar. Being one of the most preferred bikes after the Bullets, Pulsar offers variants of 150CC, 200CC, and also 220CC, either of which can be your trustworthy partner on any of the adventures.
KTM Duke – Being a featherweight bike can be useful on roadways like that of Ladakh. With the series of brand-new engine versions of Fight it out 390, and Duke 250, KTM can be an excellent option for a bike trip to Ladakh too.
CBR 250 – This bike from Honda is indeed a stunner except for its Contigo tires which can be a little through to deal with on Ladakh's terrain in case of a change in weather. On the bright side, if the tires can be placed, one can place the bike's torque and fi modern technology to wonderful use, and a greater purpose.
Bike Rental for Leh Ladakh
Is it a good idea?
It's a good idea to rent out a bike from Delhi and the trip from Delhi to Manali is definitely exciting.
No bike. No worries. The bike rentals at Delhi, as well as Manali, are ever willing to use you a ride on rent provided you submit all the required documents. In Delhi, You have actually asked a concern which revolves in most of the candidates who are trying to find a bike trip to Ladakh. There are a number of bike rental solutions readily available from Delhi which provide affordable booking price of 1000 INR /day.
Since you are going on a road trip to ladakh, I would suggest you hire bikes which are of more than 250 ccs. Bullet and Enfield are some of the very best options in the bike rental section to do the trip. There are numerous essential you need to keep in mind while taking a bike trip to Ladakh.
Suggested Read:- Adventure Sports in Ladakh
Bike Renting in Manali
If you choose to rent a bike from Manali, you can strike a bargain, for anything in between Rs.1000 and Rs.1800 depending on the design and also the condition of the bike. Additionally, you will also have to pay a deposit amount, which again ranges from Rs.12, 000 to Rs.18, 000.
The bike rental company will certainly be keeping an original copy of your nationality proof (Adhaar Card, Key or Voter Id) till the bike is returned. It is highly encouraged; that you take the bike for a test trip as well as push it to its limits to see to it the bike is functioning properly.
Petrol Pump on Highway
Keeping petrol as the priority for a bike trip, at an average, you'll be covering a distance of 3500 kilometers. Of all the bikes that have been considered, the average mileage is that of 35 kilometers per litres. This indicates that you'll require somewhere around 100 litres of gas for which, you will roughly need a quantity of INR 7000 to INR 8,000.
Manali to Leh
On this route, when you start from Manali, you will certainly find just two Petrol Pumps till you reach Leh. Therefore, it is suggested that while taking a bike trip to Ladakh with the Manali to Leh route, one ought to have their container complete as well as likewise bring some additional containers of fuel in addition to them. The petrol pumps will be foundin the following places:-
Srinagar to Leh
On this route, it is very easy to find gas as you will come across several petrol pumps. On this Srinagar to Leh freeway there are petrol pumps at the following places:-
Srinagar
Kangan
Sonamarg
Kargil
Mulbekh
Wakha
Khaltsi
Things to Carry During Ladakh Bike Trip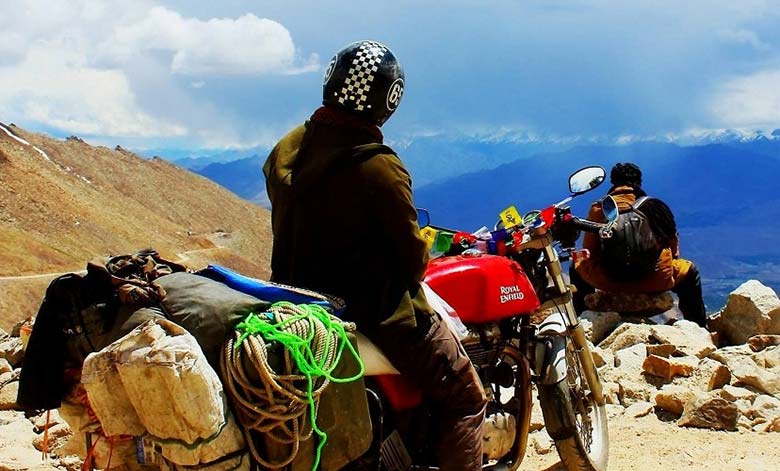 What you will pack for a bike trip will certainly be various than if you were flying to Leh. With that being claimed; there are still a few things that remain relevant in all cases; some basic items that will be required in every case. In this article, I will attempt to list down a few of these items; even more of a checklist that you can describe; irrespective of your mode of travel.
Suggested Read:- Trekking in Leh Ladakh
Mandatory
Good quality Helmet.
Water-proof riding gear or suitable clothing to ride in cold conditions which protects you in an unlikely spill; like leather pants or jeans.
Rain gear, if riding gear is not waterproof.
Riding boots or hiking boots.
Riding gloves since it is cold out there and Enfield does not have heated grips
Thermal inner wear
Medical Kit
Nightwear and casual clothing for a time far from the motorcycle.
Flip-flops or a spare set of boots.
Spare set of spectacles if applicable.
Driving license.
Headlamp with one collection of spare batteries.
If you are taking any type of medicine, carry them from home.
Optional
Riding glasses or shades
Sleeping bag
Sunscreen
Dust goggles
Cap/hat
Mosquito repellent
Rechargeable Torch
An extension cord can be helpful if are in a group; or have multiple electronics to recharge, and end up at a place with just one power socket; or a power socket at an odd place.
A spare key for your vehicle.
Nylon rope and bungee cords if you are traveling by motorcycle.
A notepad and Pen
A few safety pins
A lighter or Matchbox
Pain balm or sprays like Iodex, Moov or Volini.
Few strips of Band-Aid
A bottle of Dettol
An antiseptic cream
A crepe bandage
Nasal drops can be extremely helpful if end up with a blocked nose after catching a cold
Sugar-free if you do not take regular sugar
Tea bags
Coffee pouches
Fresh Fruit or packed fruit juice or both
A few packets of Maggie or Cup Noodles
What should you wear in Ladakh Bike Tour?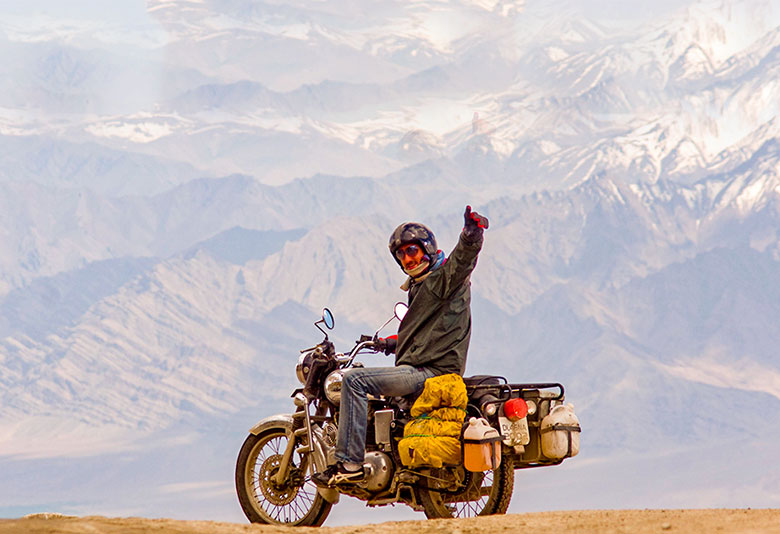 Internal thermals 2-3 pairs (must have).
A fleece jacket or windcheater jacket or windproof jacket to avoid the winds.
Good protected boots or trekking shoes in winter seasons. In summertime's, any kind of sports footwear should be great.
Woolen socks 2-3 pairs.
Heavy woolens 2-3 sets – Sweatshirts, pullovers, cozy hoodies.
Comfortable trekking / traveling pants or trousers. Better to be warm in winters or carry a couple of jeans (my favorite)
Carry at least 1-2 caps to protect yourself from direct sunlight as it is also severe in this area to protect you from UV rays. Kids specifically should use caps or hats constantly when around in sun.
Bring at least 1 Balaclava or monkey cap, particularly in the winter season.
Sunglasses to protect your eyes from the representations from the snow.
Extra pair of shoes/gumboots in case people are on bikes and also are expecting a lot of water crossings.
Hand gloves must have in the months of October to June.
Best Paths for Leh Ladakh Bike Trip (Itinerary)
Route: 1 Delhi – Srinagar – Leh – Manali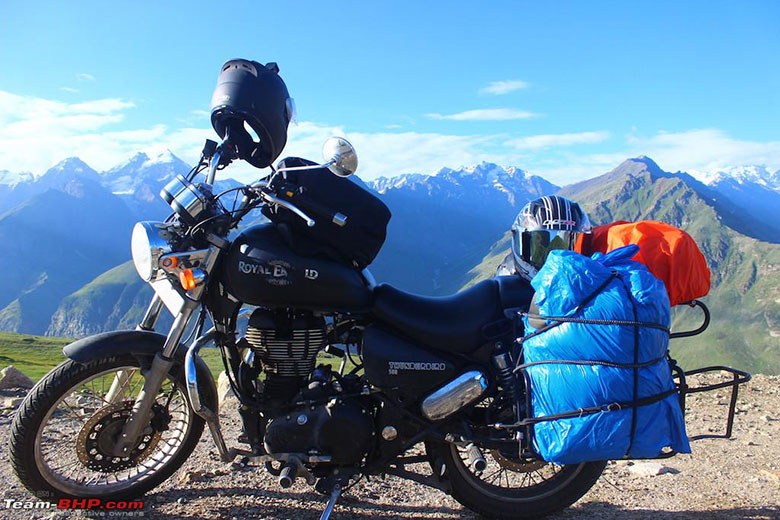 Total Distance: 2200 Km (Approximate value)
Best time to Visit: June to October
Route Map: Delhi – Ludhiana – Jalandhar – Jammu – Srinagar – Kargil – Leh – Hunder – Pangong – Karu – Sarchu – Manali.
Day 1: Delhi to Jammu
On day one you will travel from Delhi to Jammu. If you choose to travel by road, on the way you will cross Ludhiana and also Jalandhar. You will take around 10 hrs to get to Jammu, which is approximately 600 Km.
Day 2: Jammu – Srinagar
On the second day, travel from Jammu to Srinagar. This distance is approximately 300 Km. You will certainly take about seven hours to reach Srinagar if you travel by road.
Day 3: Srinagar
After a tiring journey from Jammu to Srinagar, add some excitement by claiming your bikes for the ride. After this enjoy a good night's sleep in at a hotel in Srinagar and get energized for the awaiting thrill.
Day 4: Srinagar to Kargil
Start your day early, for a 203 Km spellbinding bike ride. You will be riding from Srinagar to Kargil using Sonmarg. This route passes through the Zojila Pass (11,500 feet), Drass. While in Kargil, a browse through to the Kargil War Memorial is a must, to understand the heroic tales of our enduring soldiers. Take a break in Kargil for the night.
Day 5: Kargil to Leh
Today, appreciate riding the spectacular boulevard from Kargil to Leh and explore the appeal of Ladakh as you go through They, Alchi, Lamayuru as well as Saraks. It's a journey of 210 Km, which will take you about 4 hours.
Day 6: Leh and Around
Spend a day at Leh and visit the captivating places around. Admire and also discover peace at the age-old Lamayuru Monastery. Take time and also stopover to be amazedby the mesmeric views of Lamayuru, which are also known as the 'Moonland' Hills. Tonight, you can stay at any hotel in Leh, depending upon your convenience.
Day 7: Leh – Khardungla – Diskit – Hunder
After rejuvenating yourself at Leh, begin early and also prepare yourself to travel a distance of 120Km. Feel your spine tingle as you check out the Khardung La pass (18,380 ft.), one of the utmost traversable roads in the world. Also, visit the Deskit Monastery on the way, as you ride further to Hunter.
Day 8: Hunter – Nubra Valley
While in Hunder, discover the fascinating Wari La- Nubra Valley. If it fits your schedule, take time to experience the camel safari with the dune. Later, delight in camping under the stars at Nubra Valley.
Day 9: Nubra – Pangong Tso
Today you will depart from the Nubra valley and also cover approximately 217Km to reach the Pangong Lake. Entice yourself with the scenic beauty of the Pangong Tso Lake. There is a camping site near the lake, check-in into the camp for an overnight stay.
Suggested Read:- Festivals in Ladakh
Day 10: Pangong – Karu
Bid adieu to the mesmeric Pangong Lake and ride your bike through the Chang-la pass (17370 ft.) towards Karu.
Day 11: Karu – Sarchu
Ride approximately for 217Km and cover the stretch from Karu to Sarchu in 6 hrs. Sarchu is just one of the popular halts in the Himalayas and lies on the border of Himachal Pradesh and also Ladakh.
Day 12: Sarchu – Manali
Value the memories you built camping in the interesting scenic view of Sarchu. Embark riding towards Manali and delight in the amazing views in the process. Spend the night in Manali.
Day 13: Manali – Delhi.
The enthralling adventure ends here. Leave from Manali and also reach Delhi, from below head back to your corresponding locations together with stories filled with thrill and adventures.
Route: 2 Delhi – Manali – Leh – Delhi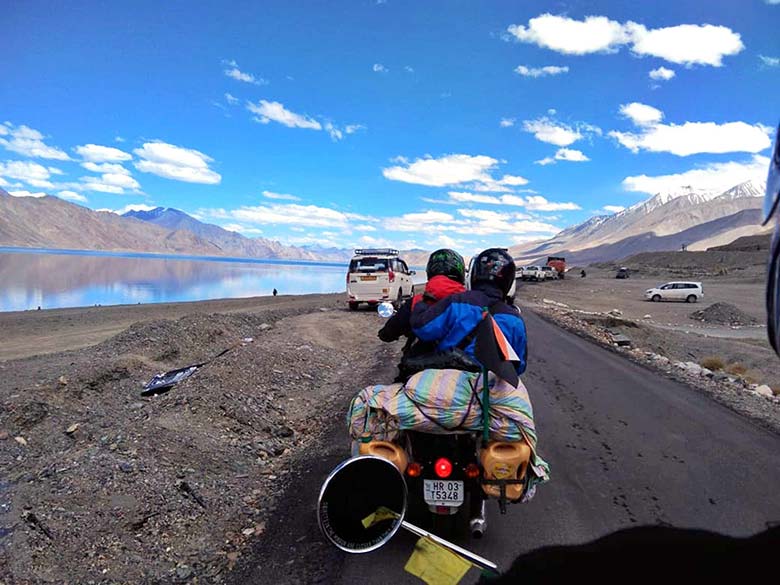 Total Distance:  2300 Km (approximate value)
Best time to Visit: June to September
Route Map: Delhi – Manali – Sarchu – Pang – Leh – Khardungla – Hunder – Nubra – Pangong – Leh – Kargil – Srinagar – Jammu – Delhi.
Day 1: Delhi to Manali
Commence your journey from New Delhi and also head out on National Highway 1. Enjoy the boulevard amidst exciting pastures of farmlands. You will be riding through the immaculate city of Chandigarh on the way to Manali. It is a 12 hours ride; you will cover approximately 550Kms. Once at Manali check into a hotel of your choice and take rest.
Day 2: Manali – Sarchu
On day two will cover a stretch of around 235km, as you traverse from Manali to Sarchu. The journey will certainly be stunning, as you will certainly trade through the National Highway 3, which remains in the midst of jungles full of coniferous trees. Ride by means of districts of Spiti and also Lahaul and reach Sarchu, where you can take a break in the tents.
Day 3: Sarchu – Pang – Leh
Sarchu to Pang is about a trip of 75 Km; it would certainly take about 2hours for you to reach from Sarchu to Pang. Pang is a required halt during the journey, as it has a number of tea houses in the process and it likewise proffers outdoor tents lodgings. After taking a break at Pang, trip further to Leh.
Day 4: Leh
Invest a day at Leh as well as appreciate the olden Lamayuru Monastery. Additionally, see the mesmeric vistas of Lamayuru, also referred to as the 'Moonland' Hills. Tonight, you can stay at a resort in Leh, relying on your convenience.
Day 5: Leh – Khardungla – Hunder
Today early morning start takes a trip a distance of 120Km. Feel your back prickle as you explore the Khardung La (18,380 feet), the miraculous motorable roadway on the planet. Check out the Deskit Monastery and also ride better to reach Hunder.
Day 6: Hunder – Nubra
While in Hunder, check out the Wari La- Nubra Valley in the early morning. One can get a kick out of activities like the camel safari through the sand dunes and likewise take pleasure in camping under the celebrities at Hunder.
Day 7: Nubra – Pangong
Today you will depart from the Nubra valley and cover approximately 217Km to reach the Pangong Lake. Entice yourself with the scenic beauty of the Pangong Tso Lake. There is a camping site near the lake, check-in into the camp for an overnight stay.
Day 8: Pangong – Leh
Pangong Tso has situated approx. 175 km from Leh town across the Chang-la pass. On this course, you will certainly pass via. Chang La at 17,590 feet, which is one of the highest possible motorable roadways. You will witness the beautiful culture of Ladakh as you will come across some villages on this route.
Suggested Read:- Top 10 Hidden Tourist Places in Leh Ladakh
Day 10: Leh – Kargil
On day ten, delight in the impressive boulevard from Leh to Kargil, as you pass through Saraks, Lamayuru, Alchi, and Phey. It's a journey to about 210 Km, which you will cover in roughly 4 hours. Pay a tribute to our brave soldiers, at the Kargil War Memorial.
Day 11: Kargil – Srinagar
Commence early from Kargil and traverse by means of the alluring vistas of Drass, Baltal, and Sonamarg and get to Srinagar. Today, you will be covering a stretch of 200kms in about 5 hours.
Day 12: Srinagar
Admire the divine appeal of Srinagar, the capital of Jammu as well as Kashmir. The Shalimar Bagh is among the most gorgeous attractions below. Explore the Mughal Gardens and also the Shankaracharya temple before you find a hotel to loosen up for the night.
Day 13: Srinagar – Jammu
Bid adieu to the picturesque city of Srinagar and ride back towards Jammu. This route will take you via Jawahar Tunnel that will open at Jammu. Check in at a hotel for an overnight stay.
Day 14: Jammu – Delhi
The enthralling journey comes to an end. Leave from Jammu and reach Delhi, from here head back to your respective places along with fun-filled and adventurous stories
Places to Visit on Leh Ladakh Bike Trip 2019
Wondering what all attractions to cover on your Leh Ladakh bike trip 2019? Plan your itinerary around these best places to visit in Ladakh.
1. Pangong Tso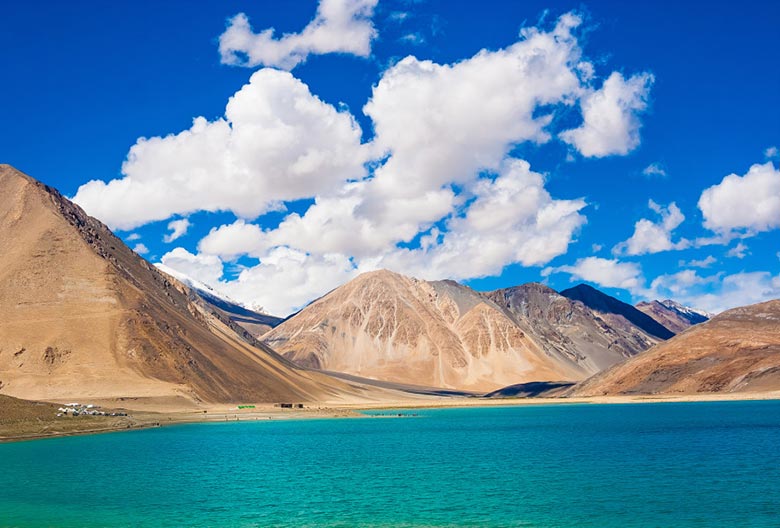 Popularly known as the Pangong Lake, this natural marvel set in the lap of Ladakh is must visit visitor attraction on your Leh Ladakh bike journey. Located in the heart of Himalayas, the lake stretches at a distance of about 134 kilometers offering scintillating views in sync with the rustic mountains.
2. Namgyal Tsemo Gompa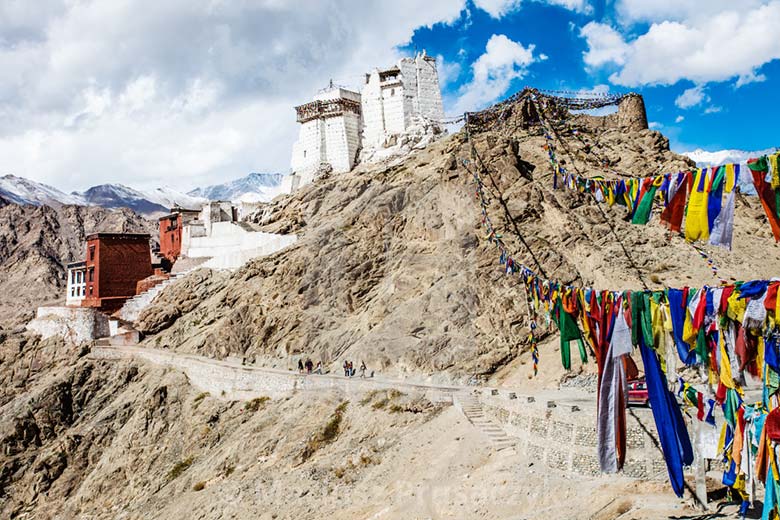 Much famed to be one of the famous monasteries in Ladakh, Namgyal Tsemo Gompa or Namgyal Tsemo Monastery lies right in the heart of Leh district. It is believed that Ladakh's King Tashi Namgyal established the abbey in 1430 that works as a home to the popular golden sculpture of Maitreya Buddha.
3. Shanti Stupa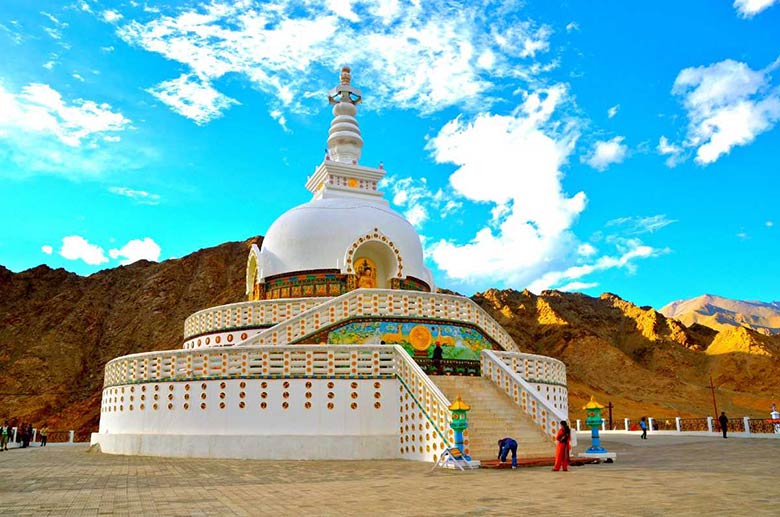 The strikingly white structure of Shanti Stupa, as well as its dome, is the most recognizable landmarks in Leh Ladakh. It was built by Japanese and Ladakhi Buddhists to commemorate 2500 years of Buddhism and to promote world peace.
The white surface area looks wonderful in the daytime, but on full moon nights, it looks a lot more beautiful when it obtains bathed in the soft glow of the moon rays. Vacationers can experience the happiness of meditation inside the Stupa, as well as additionally see the sensational views of sunrise and sunset.
4. Leh Palace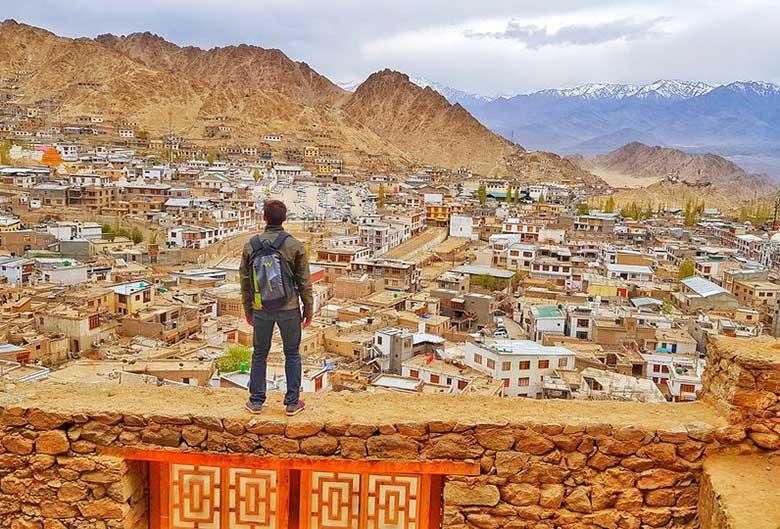 Built-in 1553 AD, the 19 stories high Leh Palace has improved a hill as well as still looks imposing from the community; evidently, it was just one of the tallest buildings on the planet throughout that time. It was the home of the royal family till the mid-19th century when the Dogra forces attack Ladakh and also the royal family moved to the stock palace thus abandoning the ft. Although in ruins currently, the royal residence is currently being restored by the Historical survey of India. The royal residence also has a gallery which holds a rich collection of jewelry, ornaments, ritualistic dresses as well as crowns. The paintings in the museum are greater than 450 years old Chinese thangka paintings. The place certainly has reasons convincing sufficient to make its way on the majority of the – Ladakh bike trip bundles!
Suggested Read:- Places To Visit in Leh Ladakh
5. Hemis Monastery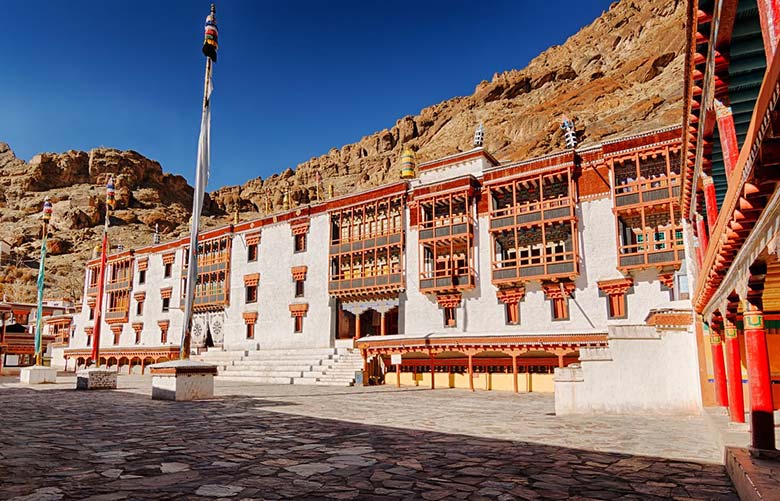 Situated 45 kilometers from the town of Leh, Hemis Abbey has existed before the 11th century but was re-established in 1672. It is a Tibetan abbey which is the richest and also greatest in Ladakh, it also has the biggest of all thangka paints in Ladakh which is unfurled in every 12 years and also the next unfurling will happen in 2016. Hemis monastery is likewise a host of the popular yearly celebration held in the honor of Lord Padmasambhava; it is absolutely one of the most captivating of all festivities located in the world, particularly the mystic mask dances which are jointly known as Chams. The Hemis is also home to the jeopardized "Program leopard" which is found in the neighboring Hemis national forest.
6. Tso Moriri Lake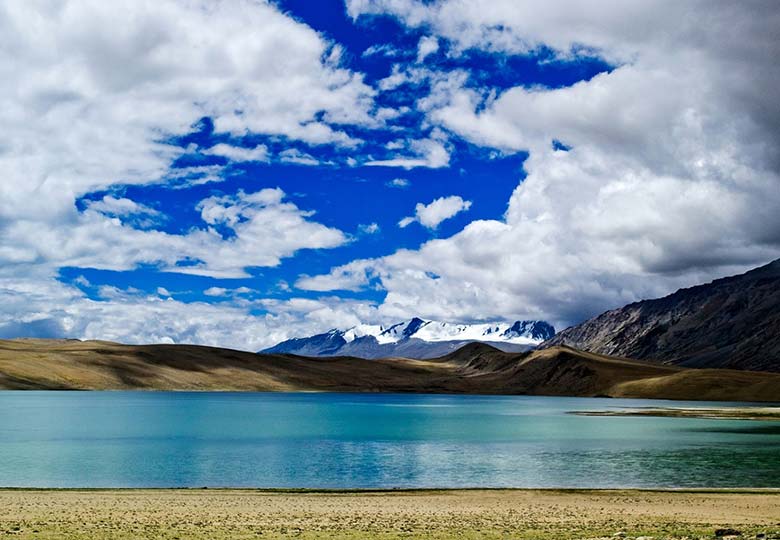 Snuggled at an isolated area in the greater Himalayan ranges, the excellent Tso Moriri Lake is understood to be the largest alpine lake in India. Find at an elevation of over 15000 feet above the water level in a rugged landscape, it appears like the gift of nature. Because of its high elevation and difficult journey, it is gone to by a minimal number of visitors. The darkness of the
surroundings can be seen in the azure blue waters of the lake. The topography of snow-clad barren hillsides with peaceful surroundings looks unique.
7. Khardung La Pass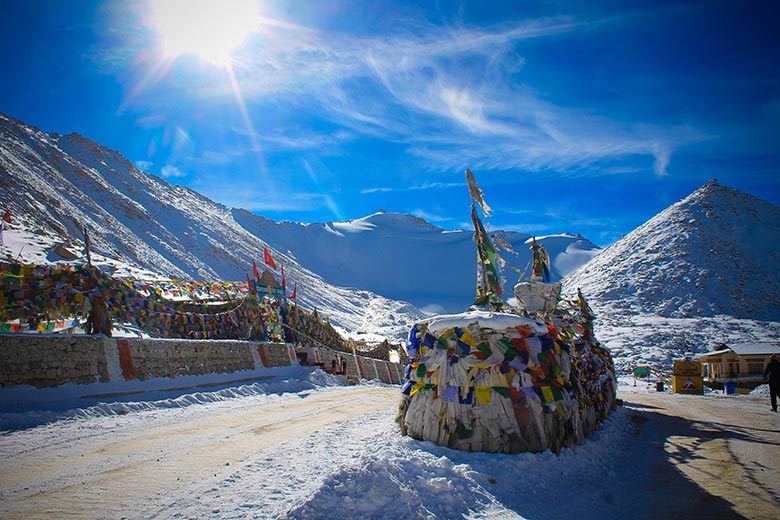 Known as the 'Gateway to Nubra and Shryock Valleys', Khardung La is one of the highest motorable roads on the planet, at an altitude of 5359 m above the sea level. One of the 12 best areas to go to in Leh Ladakh, it is around 40 km from Leh. Also called the 'Pass of Lower Castle', it opened up for cars in 1988. This road is quite popular amid motorcycling lovers. Enjoy tea and beverage at the military canteen as you pay attention to the fluttering noise of the vibrant Tibetan prayer flags. The views are stunning. There is a keepsake shop below from where you can purchase some souvenirs. It is also used by the Indian Military to lug products to the Siachen Glacier.
FAQs for the Dream Ride Motor Bike Tour to Ladakh
Q. How can I reach Leh?
Ans. Leh is connected to major cities like Delhi, Jammu & Srinagar by airways. You can easily reach to the airport and begin your biking trip after joining your group at the meeting point. During the summer, national highways are also open both from Srinagar (April to November) and also Manali (May to October) so one can also get to Leh by road as well.
Q. What is the best season to visit Ladakh?
Ans. You can visit Ladakh all around the year, depending upon your own desires, however, the tourist season peaks from May till the end of October.
Q. Which types of clothes is ideal?
Ans. In the summer season, you do not require special clothing with the exception of a sweater with one to 2 coats and hats, but for a long biking tour, full biking gear with jackets, pants, knee-pads, and shoes are essential.
Q. How safe is it to ride a motorcycle in Ladakh?
Ans. The roads in the mountains are full of shocks with sudden pin-bend turns and also primarily narrow, so one has to ride the bike with utmost treatment by following to the rules and not over-taking if the roads are narrow.
Q. Which network is accessible?
Ans. BSNL has the toughest network in Ladakh connecting most of the locations, while others like Airtel and Aircel have their presence in Leh city only.
Q. How Far is Ladakh from Leh?
Ans. 15.83 miles
Air Travel Distance in between Ladakh and also Leh is 25.48 kilometers/ 15.83 miles. Offered below is the road range between Ladakh and Leh. If greater than one course is available, alternate routes will likewise be displayed. The map given listed below provides road map and travel directions to reach Leh from Ladakh by car or bus.
Q. Innerline Permits Is Required in Leh – Ladakh?
Ans. Thought about a trip to Leh Ladakh just recently? Well, from April 2017, the government authorities had made it compulsory to get an Inner line permit for Domestic and International travelers visiting some of the protected areas of Ladakh. Acquiring Inner line permit may be a cumbersome task filled with hours of standing in a long queue, particularly if your trip coincides with any government holidays (Saturday and Sunday).
The government authorities have actually lately released an internet website whereby one can apply for internal line permit (ILP) online by paying INR 400 each as an environmental cost + 20 rupees per day as an Inner line fee. This rule is an effective result from 1st June 2017.
Q. What is the Inner Line Permit?
Ans. Inner Line Permit, or ILP, is a travel document issued by the government of India which enables an Indian as well as foreigner tourists to take a trip to a protected area for a limited time period. Getting this permit is required for all the residents that do not belong to Jammu and also Kashmir State. Foreigners seeing Ladakh are required to get Ladakh Protected Area License (PAP) prior to entering this region. The Inner Line Permit, or ILP, stands for a duration of 3 weeks for Indians, and 1 week for immigrants. It must also be born in mind that there is no limitation on the number of times you visit a place within the legitimate period as long as you have the necessary permits with you.
Q. Which Areas Need an Inner Line Permit?
Ans. Please noted that the Inner line Permit is not needed for going to all the areas. Actually, it is only required for some areas like Nubra Valley, Khardung La, Pangong Tso, Tso Moriri, Dah, Hans Towns, Man, Merak, Nyoma, Loma Bend, Turtuk, Tyakshi, Chusul, Hanle, Miner La, Tangyar (for trekking only).
Q. Why This Bike Trip?
Ans. Leh Ladakh Bike Trip is the best way to experience the challenges of rugged terrain, High Altitude passes and numerous streams crossing. Leh Ladakh Bike Trip is not for the faint-hearted one it's only for the adventurers.