If you are a newlywed couple and looking for the perfect holiday destination to embark the married life of you and your better half, you will be surprised to know there are several beautiful honeymoon places in Kerala. Found amongst sheer magnificent natural beauty, Kerala is the perfect place to enjoy a secluded and private holiday with your loved one.
Is Kerala good for honeymoon?
Kerala is the very best honeymoon destination in India. Kerala Honeymoon Packages include of genuine ayurvedic experiences to laid back houseboat rides and also these destinations include, Treehouse facing waterfalls in Athirappilly, Tea Gardens in Munnar and also Houseboat Cruise in Kumarakom and more.
Below mentioned are the top 13 Kerala Honeymoon destinations & things to do where you can take a romantic escape with your beloved while enjoying a special romantic date, filled with surprises, love and various activities.
1. Munnar – Verdant Tea Gardens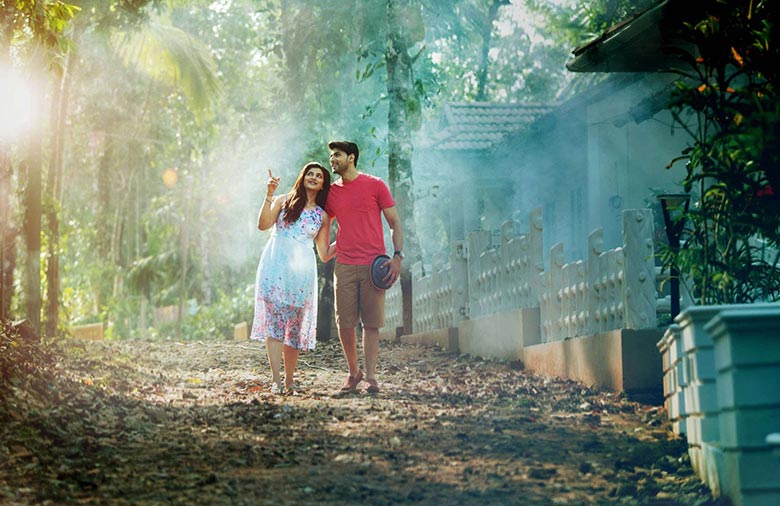 It must be a dream of every honeymoon couple to walk together via the rich tea plantations of Munnar. The cool climate, perfumed air and also beautiful views of the lush tea gardens make it the most preferred honeymoon destination in the state. Each couple would love to watch the enchanting hills of this hill station. There are many tourist attractions in Munnar such as Echo point, Top Station, Eravikulam National Park as well as Mattupetty Dam. You will certainly always remember boating in the Kundala Dam. A trek to the Meesappulimala can be daring but amazing. The tranquil atmosphere, awesome environment and also fragrant air make it one of the wonderful honeymoon vacations for summer.
Things to do in Munnar:
Stroll through tea gardens
Go trekking
Visit the waterfalls
Stay in a tree house
Where to stay in Munnar:
Vanya Tree House
Mountain Club Resort
Nearest Railway Station: Aluva
Nearest Airport: Cochin International Airport
Places to Visit: Eravikulam National Park, Mattupetty Indo, and Pothamedu
2. Athirapally a Treehouse State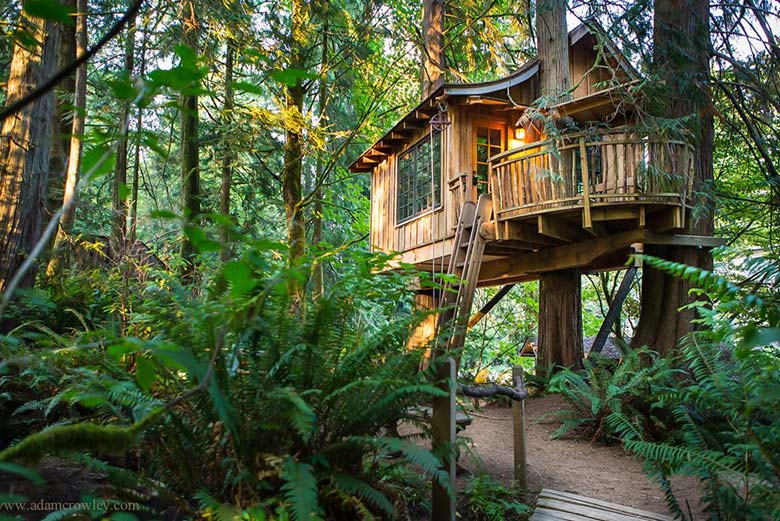 Athirappilly is one of the untouched tourist places of Kerala, popular for its sightseeing and tourism. The tree house resort of Athirapally provides unequaled echo and sights of the captivating falls, which puts down in isolation in the middle of the forests. You can admire the gorgeous waterfalls vanishing as the sun goes down, being in the grass of the resort. You can additionally obtain the immaculate sight of the waterfalls while swimming in the swimming pool in its opposite direction. This is one of the hidden treasures of Kerala that makes a perfect honeymoon destination for the couple.
Book Kerala tour packages at best price
Best Time: Throughout the year
Known For: Athirapally Falls | Charpa Falls | Vadakummnathan Temple
3. Wayanad (Lush Greenery)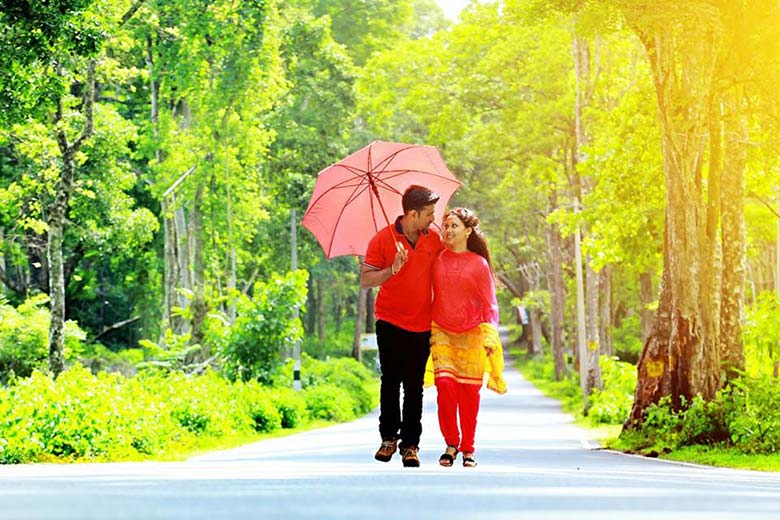 Wayanad, the verdant hill station of India is really close to the seashores of Kozhikode. Nestled in the Western Ghats, the hill station is covered with green mountains and also is a natural hub for flourishing vegetation, flora & fauna.
A popular place amongst tourists, Wayanad serves as a strategic place for the convenience of connection from popular traveler locations like Coorg, Ooty, Mysore, Kannur, and also Bangalore. For nature lovers, Wayanad is a haven of deep valleys and thick forests covered with eco-friendly high cliffs at angels making it an optimal area for your honeymoon in Wayanad.
Couples in Wayanad can spend their days hiking up the misty terrains or spend them on a gratifying wildlife safari.
Nearest Airport: Karipur International Airport at Kozhikode is the nearest airport from Wayanad, 100 km away.
Top Attractions: Edakkal Caves, Thirunelli Temple, Chembra Peak, and Bandipur National Park.
Things to do in Wayanad:
Trekking
Waterfall exploration
Visit lakes and caves
Enjoy wildlife safari
4. Alleppey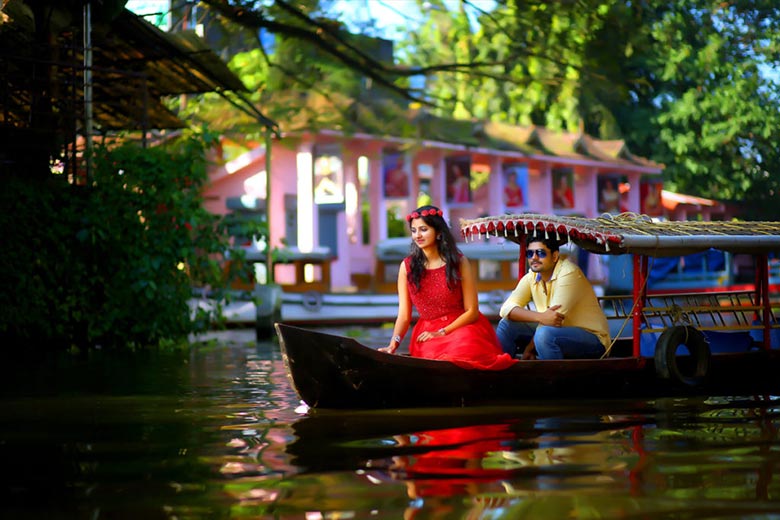 The ultimate romantic experience on a trip to Kerala is being offered a freshly prepared meal as you appreciate the rich plant, endless paddy fields, remote islands and serene backwaters in a gorgeous houseboat. And if this romantic dream is what you are looking for in your honeymoon then there is no much better area than Alleppey to make it come true. Stay in the luxury cottages at a Beach Harmony which gives its visitors with the sensational sight of the Marari Beach, outstanding food and the personal privacy that you would certainly want on your honeymoon.
When to Visit: Best time to visit is October to February.
Places to visit: Marari Beach, Alleppey Beach, Revi Karunakaran Museum, St. Andrew's Basilica Arthunkal, and Kuttanad Backwaters
Things to do in Alleppey:
Delight in houseboat tour
Visit the beach
Watch the snake boat race
Spend time indulging in Ayurvedic therapies
Suggested Read :- Kerala Trip Plan for 7 Days
5. Kovalam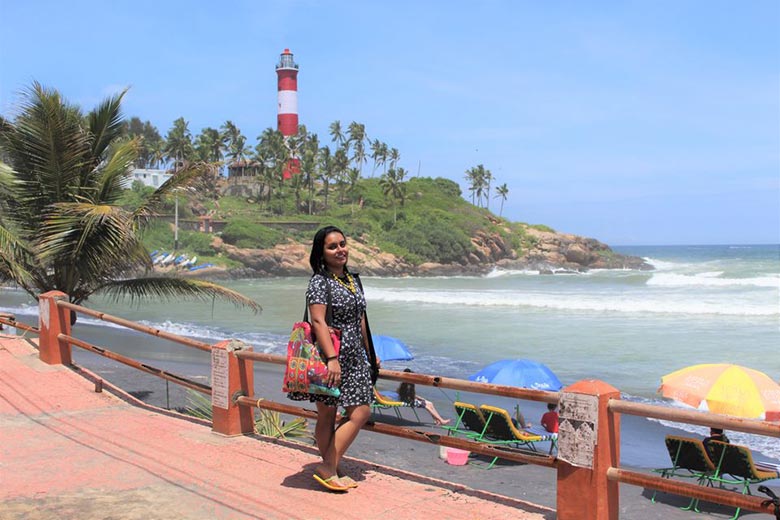 An ideal town along the coastlines of the Arabian Sea, Kovalam is most renowned for its 3 pristine beaches with shallow waters as well as low tidal waves where one can go surfing, wood and motorboat riding. The beach town of Kovalam has three well-known beaches – Lighthouse beach, Samudra beach as well as Hawah beach, which together form its majestic rocky crescent. Kovalam basically implies a 'grove of coconut trees' and the little town is filled with these palms.
Famous for: Nightlife, Ayurvedic Massages, Shopping
Best Time to Visit: September to March
Nearest airport: Trivandrum International Airport, about 10 km
Things to do in Kovalam:
Sunbathing and Swimming
Try out Water sports
Ayurvedic Massages
Enjoy Cultural programs
6. Bekal (Forts & Water)
Honeymooners who would like to avoid the crowd and spend their valuable time relaxing and also spending high-quality time, then Bekal will certainly be the best destination for them. A town identified by its natural charm is famous for its old forts, tranquil backwaters and also naturally serene beaches.
A famous tourist hotspot is the Nithyananda Ashram caves, which is a set of 45 caverns. Couples would love to take in the history of this old town with its winding streams, surrounding hills and clear waters that make for an enchanting vacation. Bekal has significant capacity to be counted as one of the most lovely honeymoon places in Kerala.
Nearest Airport: Mangalore domestic airport is located at a distance of 50 km from Bekal.
Top Attractions: Bekal Fort, Chandragiri Fort, and Payaswini.
Things to do in Bekal:
Walk on the sandy shores
Explore the Bekal Fort
Savor the relaxing Ayurvedic therapies
7. Marari Beach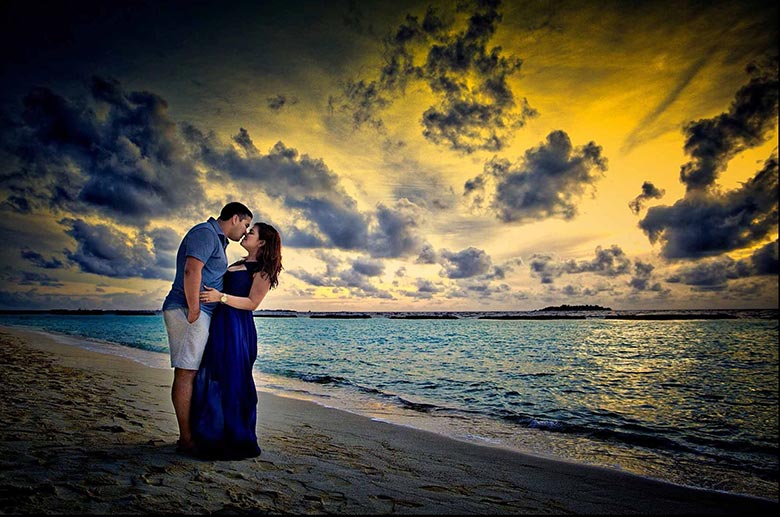 Marari sparkling turquoise-blue waters are a destination in their own right with bright sun, as well as tasty food attract honeymooners and seasoned travelers alike. Maybe you would like that dip prior to you start the morning with a beach walk in the morning in a pool inside the private cottage. Swimming in a vast pool where privacy is secluded is an instant at pick-me-up for any partner. Make some wonderful memories and also play some couple of games, possibly. Nothing relaxes tired legs after a day's could stroll as well as stroll like spending some the couple time in the pool before an excellent nights rest as well.
Location: Kerala, just north of Alleppey and around 60 kilometers (37 miles) south of Kochi.
8. Vagamon- Green Meadows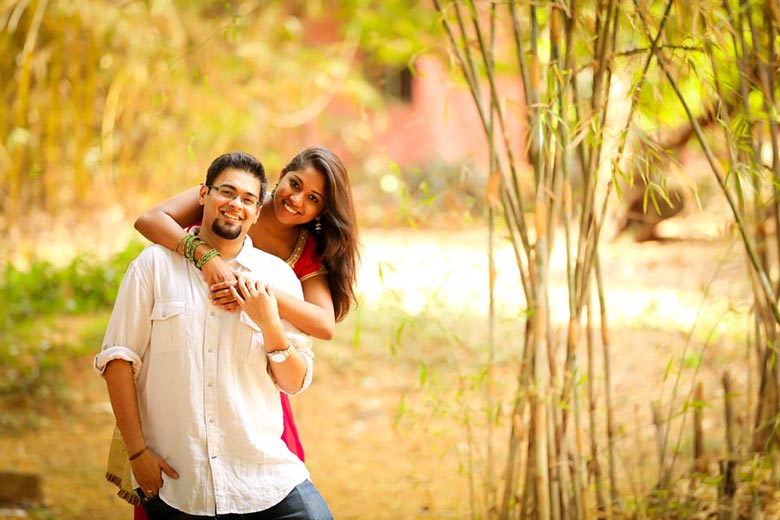 What is a honeymoon without glassy hills, velvet lawns and cool mountain air which is exactly what vagamon offers   to any couple? If you intend to leave crowds, don't go to Munnar however go to Vagamon. While the picturesque scenery in Vagamon attracts traveler from around the world, it is environment-friendly fields that stretch far and beyond maintains them returning for even more. See the sunset over environment-friendly meadows in a sight to see Vagamon has a shade of culture as well with the Murugan hill, Thangal hill, and also the Kurisumala essential for different religions in Kerala.
Weather: 29 ° C, Wind NW at 8 km/h, 68% Humidity.
Nearest Train Station: Kottayam, nearest airport = Cochin International Airport
9. Thrissur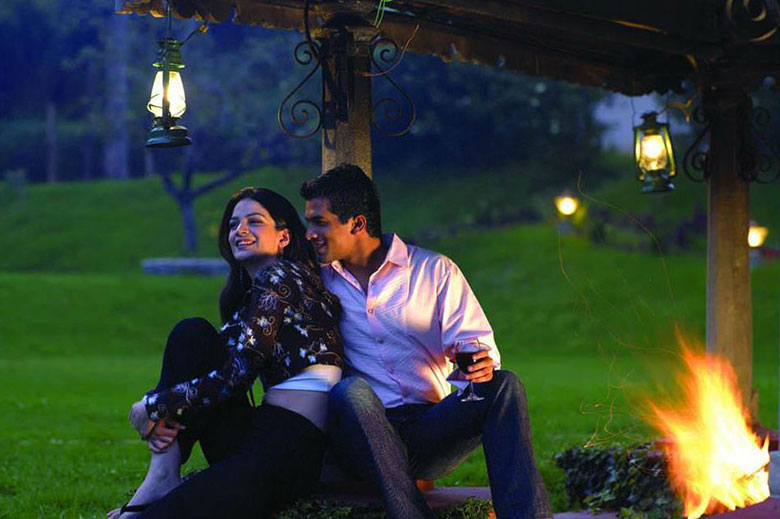 Officially known as the cultural capital of Kerala, Thrissur is renowned for fostering classical Keralan performing arts, religious sites and the popular Onam festival, Thrissur Pooram festival as well as Vadakkumnathan temples.
Thrissur which has also been known to as Trichur is where Kerala obtains a fair share of its joyful radiance and vibrant and sound circumstances of classic arts. Thrissur makes sure to cast a spell on you with its vibrant incantations sounding with an abundant Keralan culture. The festivals celebrated here are the major attractions for travelers as well as a browse through to Thrissur is insufficient without observing these. Various other tourist spots in Thrissur consist of the Vadakkumnathan Kshetram Temple, Tomb of Shakthan Thampuran, Archaeology Museum, Athirapally Falls, Heritage Garden and many more.
Best Time to Visit: Thrissur: October to March.
Weather condition: 32 ° C, Wind W at 14 km/h, 66% Humidity.
Top 5 Temples To Visit In Thrissur
Kodungallur Sree Kurumba Bhagavathi Temple
Thriprayar Sree Rama Temple
Sri Krishna Temple
Mammiyoor Sri Mahadeva Temple
Chowalloor Shiva Temple
Suggested Read:- Festivals of Kerala
10. Poovar Island
Nestled on the southern tip of Trivandrum, Poovar Island is one of the unique places in the world. The estuary here is the one where the lake, the river, the sea and also the beach fulfills the land. This rare natural wonder in Kerala produces a remarkable enchanting escape. No wonder, it is among the best destination to visit for a honeymoon in Kerala.
Poovar Island is famous for its beach and backwaters. Apart from the spectacular natural beauty, a honeymoon is made more unique with the one-of-a-kind luxury lodgings. Resorts right here offers cottages improved land as well as floating on water.
When to Visit Poovar Island: October to March.
Things to do in Poovar Island:
Stroll along the beaches
Cruise across the backwaters
Indulge in a rejuvenating Ayurveda therapy
Places to visit in Poovar Island:
Thirparappu Falls
Poovar Beach
Vizhinjam
The Fishing Village
11. Kozhikode
Kozhikode will always have a special place in the history of Kerala as it is here that Vasco-da-Gama first landed and the legendary Spice route came into existence. This region still has a historic charm to it. Kozhikode Beach is the personification of the various qualities that make Kozhikode so unique.
Formerly known as Calicut, Kozhikode was the Capital of Malabar during the Zamorin rule 500 years ago and also is famous for its centuries-old sell cotton and also seasonings with Jews, Arabs, Phoenicians, and Chinese.
Best time to visit: September to May
Nearest airport: Karipur International Airport in Calicut is just 28 km away.
Nearest railway station: Kozhikode Railway Station is well within the city limits.
12. Veli Tourist Village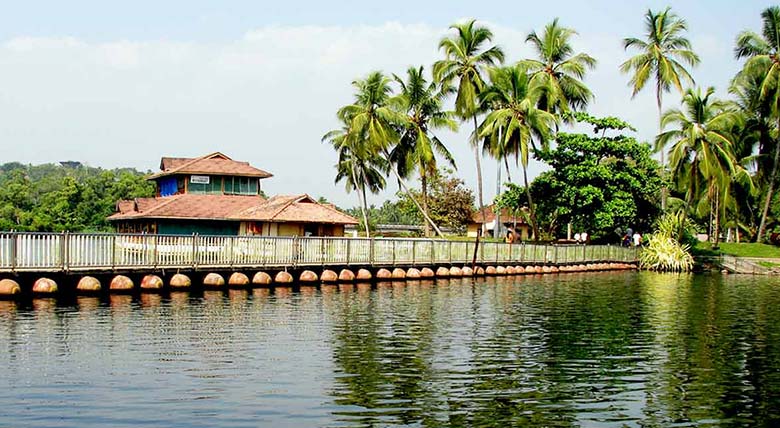 From all the locations to see on your trip to Kerala, exploring the Veli Lake and also dining in the drifting dining establishment at the lake is an incredible experience. Paddle boat in the lake and also take a look at the floating bridge that links the visitor town with the coastline. Veli Tourist Town lies at a distance of 8 kilometers from Thiruvananthapuram. You can simply work with auto, take a taxi, or trip in the bus to get to this serene little hamlet.
Address: Veli – Perumathura Rd, Madhavapuram Colony, Veli, Thiruvananthapuram, Kerala 695021
Nearest railway station: Thiruvananthapuram Central, about 8 km
Opening Time: 9 am to 6 pm
Water Adventure: Speed Boat – 4 Person = 600 /-
Also Visit – Packing Tips for Kerala
13. Thiruvananthapuram
A city loving energy yet co-existing with ancient history, Thiruvananthapuram is among the very best tourist places in Kerala. The capital city is among one of the most beautiful and greenest cities of India. While the blessed beauty is owing to the beautiful beaches in addition to serene backwaters fringed by palm as well as coconut groves. While the historical monoliths and respected temples maintain the site visitors hectic. The Sree Padmanabha Swamy Holy Place most importantly is the holiest. The holy abode of Anantha Padmanabha provides spiritual bliss. While you enjoy the city satisfaction, enjoy water sporting activities; likewise, experience the lovely culture of Kerala.
Best time to visit: October to February.
Nearest airport: Trivandrum International Airport in the city.
Nearest railway station: Railway station in the city.
5 Best Things To Do In Kerala On Honeymoon
There are a lot of things to do in Kerala on Honeymoon, and also the couple can take pleasure in almost everything from jungle safari to outside activates to a small romantic evening stroll across the waters.
1. Go for a Jeep Safari through Periyar Jungle
If you seek to avail all the opportunities in a single plan then rather than searching for a honeymoon package search for experience activities in Kerala and maintain your concentrate on the area of Periyar Jungle.
Best time to see – December to March
Activities – Take Sun Bath At Kovalam Beach which is located 10 km from the international airport.
2. Watch Kathakali Dance
Kathakali is a popular dance form of Kerala. Kathak is a music story telling where the peoples take the help of facial movements and tricks to express themselves.
"Ernakulam Kathakali Club" is one of the most popular places where you can see the journey of this dancing kind; such clubs help us understand how Kathakali became the most popular means of storytelling in medieval Kerala.
Activities – Explore the various traditions of Kathakali and also witness its development.
3. Cruise through backwaters in a houseboat
Romance cannot be much better defined than a cruise in the scenic backwaters of Kerala. Every honeymooner's dream, a houseboat cruise is something you cannot miss in Kerala. Kumarakom, Alleppey, Ashtamudi as well as different other bayous provide you charming backwaters cruise. The traditional 'Kettuvallam' is changed right into a well-equipped houseboat with bath-attached bedrooms, lounge, and kitchen, at par with the high-ends of a 5-star resort. Enough crew is also readily available to make certain that the couple is well looked after. Snuggle up with your partner while the boat smoothly takes you on a journey of a lifetime.
4. Stay in a Kerala Treehouse
Perhaps a tree house surrounded by acres of lush forest definitely matters as one of the top 10 romantic activities in Kerala. If peace, tranquility as well as fresh air is what will certainly interest both of you, remain in a Kerala Treehouse. Romantic, private and also in the woodlands, it is a fantastic experience. Instead of the regular resorts, select a stay in a Kerala Treehouse. Remain in wood homes established normally 15 feet over the ground, carries a deck, rooms as well as washroom with all modern facilities. The impressive natural charm of Kerala come with by the charisma of the rich landscape, you have a great story to inform. Wayanad, Vyithri, Munnar, and Thekkady are popular places for tree houses.
Also Visit – Things to Buy & Famous Shopping Places in Kerala
5. Get an Ayurveda Couple Massage
Pairs in Kerala cannot afford to miss out an Ayurveda massage therapy. In fact, it can be among the most charming tasks for couples in Kerala. Ayurveda is India's standard all-natural healing system, practiced for over 5,000 years. Kerala is the birthplace of this science. Couples can avail Ayurvedic treatments anywhere in Kerala, due to the climate and plentiful supply of medicinal plants and also herbs there. Not surprising that some of the finest spa and also Ayurveda resorts in India lie in Kerala. Take pleasure in the intimate setup and the stimulating touch and skill of expert masseurs. You and your sweetheart will re-discover the meaning of romance.