To get an authentic feeling, Jaipur is the ideal place for visitors. With extravagant monuments, ancient forts and traditional culture, the places make sure to delight you. In your two days of trips, you can cover many places to visit in Jaipur in 2 days.
Two days are sufficient to visit the main places in Jaipur. Though there is a number of places to choose from. Most of the tourist attractions belong to history like forts, palaces, and temples too.
Book tour packages to Jaipur with Swan Tours at best price
Best Places to Visit in Jaipur in 2 Days
In this 2 day Jaipur itinerary which covers things to do in Jaipur and places to visit, I have also recommended advised Jaipur accommodation, food & shopping tips. This 2-day itinerary for Jaipur covers the best places to visit in Jaipur.
Day 1 Itinerary
1. Amer Fort (Amber Fort)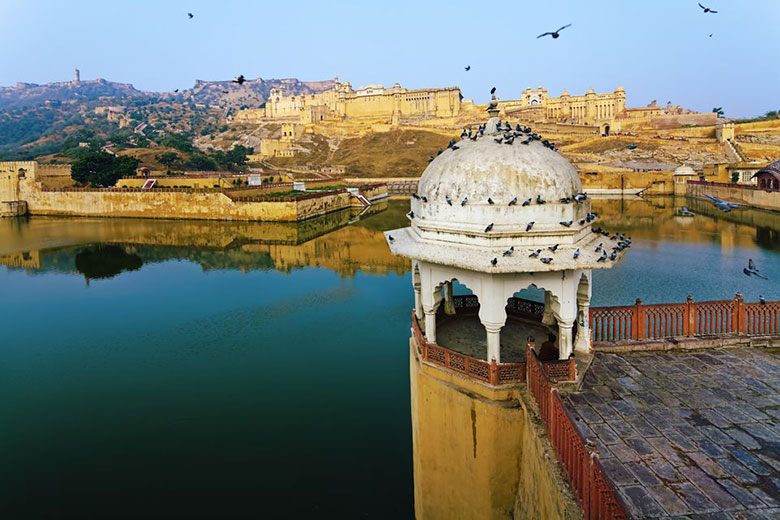 A sight-seeing journey of Jaipur cannot be considered full without a visit to the spectacular Amer Fort as well as Palace. The most opulent amongst all the forts in Jaipur, Amer Fort embodies architectural brilliance and royal splendor. The lavish palace inside the fort is laid on 4 levels. Amongst the major attractions of the fort is the Sheesh Mahal or the Palace of Mirrors. This stunning building is garnished with a mosaic of gleaming mirrors as well as glass decorate all along the walls and also the ceiling also. You can also go for an elephant ride inside the fort or shop for some souvenirs.
Timings: 10:00 am to 5:00 pm; all the days of the week
Access Fee: 100 (Indians); 550 (Foreign Nationals).
---
Rajasthan Tour Packages
Pricing and Itinerary
Rajasthan Honeymoon Packages
Jodhpur Jaisalmer Tour Package
Rajasthan with Agra Tour Package
Best of Rajasthan Tour Packages
---
2. Panna Meena ka Kund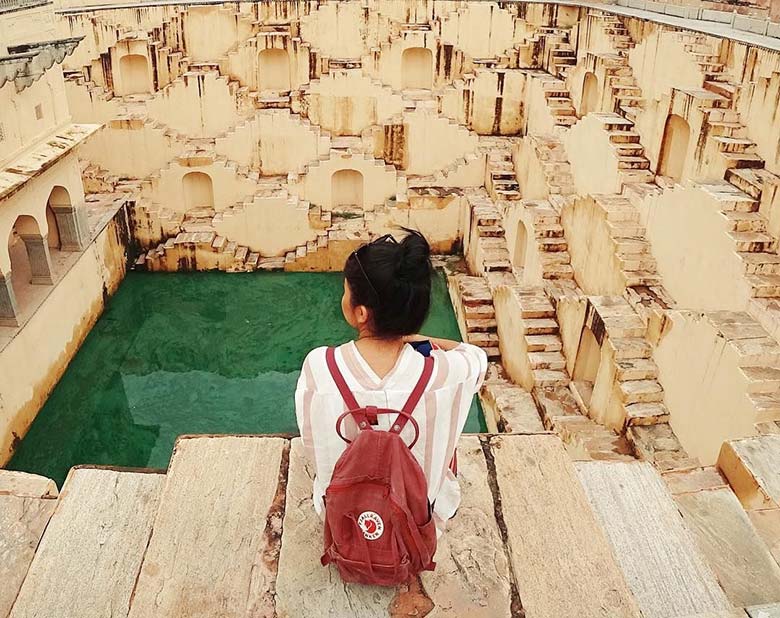 All the wells have their own beauty and charm, yet Panna Meena ka Kund is the only one we saw which were not made out of grey stone. You'll find it in the middle of Amer village near to Amber Fort; about 20 minutes' drive from the main Jaipur if you go early in the morning.
Address: Near Amber Fort, Jaipur, Rajasthan
Timings: Best time to visit is during day
Visiting Duration: 1 to 3 hours
Entry Fee: No Entry Fee
3. Jal Mahal – The Water Palace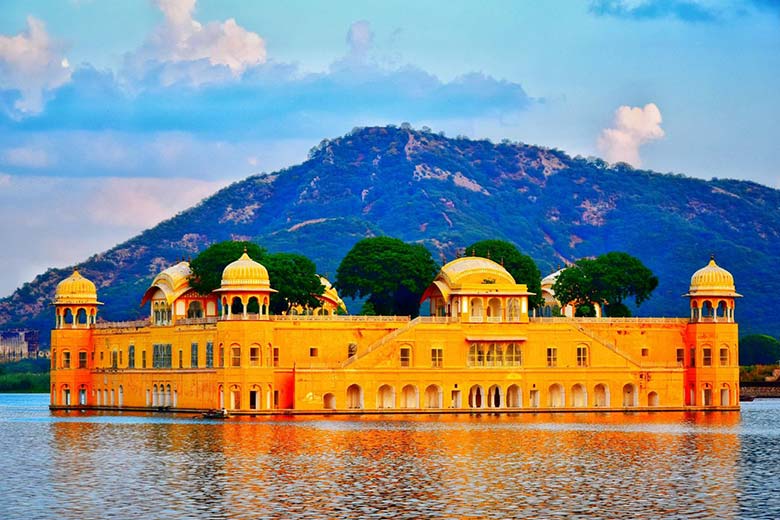 Set amidst the beautiful Man – Sarovar Lake, Jal Mahal is an amazing view! The five-storied building, which dates back to the 1750s, was actually never ever built with the purpose of it being utilized as a palace. The ruler at the time, Madho Singh, simply desired it as a hunting lodge for himself and also as a location for his duck searching events.
You'll drive by Jal Mahal on your way from town to the forts so it's a fantastic place to unwind awhile. Have a coconut as well as take pleasure in the panorama of the palace and all the beautiful birds.
Duration of visit: 30 Mins – 1 Hr.
Timings: 9 AM to 5 PM.
Entry Fee: Rs. 50 for person
4. Jaigarh Fort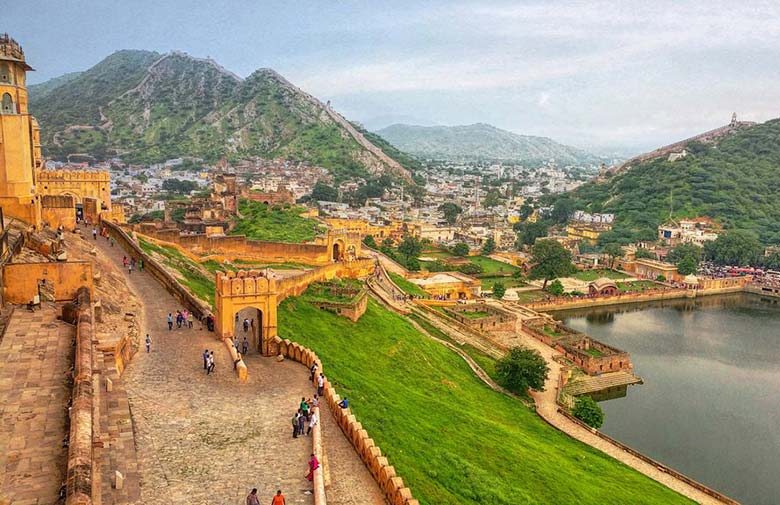 At a distance of 15 kilometers from Jaipur Railway Station and also much less than 1 km (by walk) from Amer Fort, Jaigarh Fort is positioned on a cliff called Cheel ka Teela (Hill of Eagles) of the Aravalli range. It forgets the Amber Forts as well as the Maota Lake. This is one of the best forts in Jaipur as well as additionally among the famous Jaipur visitor places which are commonly seen from Amer fort.
Duration of Visit: 1-2 Hours
Timings: 9 AM to 4.30 PM.
Entry Cost: Rs.35 for Indians, Rs.85 for Foreigners and Rs.50 for Video camera & Rs.200 for Video Camera.
5. Sunset at Nahargarh Fort
Nahar means tiger. Garh means fort. In English, this stunning fortress converts to the Tiger Fort. Up in the hills of Jaipur, the Nahargarh Fort walls wind along the ridges of the mountains. Standing on the fort wall surfaces you will overlook communities teeming with intense action. If you arrive before sunset you can stray with the gallery or the wax gallery.
There is an awesome tour that takes you to both the Nahargarh Fort and the Jaigarh Fort on a half-day scenic tour. We highly recommend visiting both!
Address: Krishna Nagar, Brahampuri, Jaipur, Rajasthan 302002.
Opening Time: All days of the week -10:00 AM – 05:30 PM.
Best Time to Go To: In between the months of October and March.
Day 2 Itinerary
1. City Palace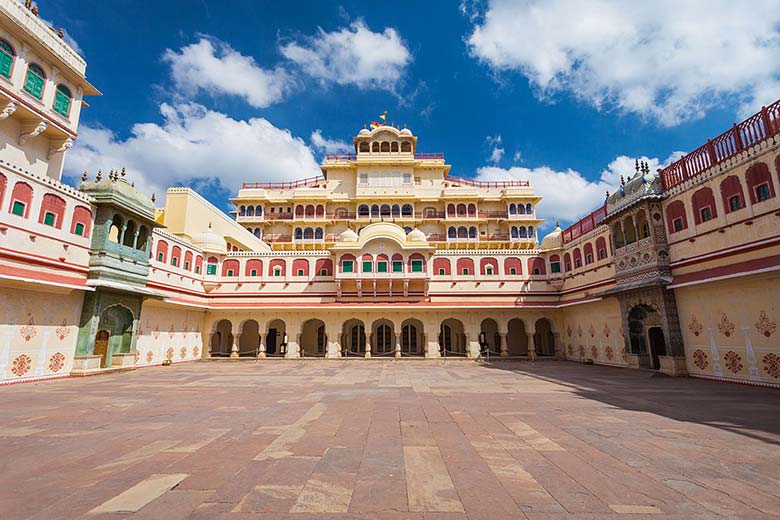 The impressive city palace stands right in the heart of Jaipur and takes you back to an era of royal grandeur and magnificence. The palace boasts of a striking fusion of Rajput and also Mughal styles of architecture, making it one of the must-visit places in Jaipur. When you tip within, you will certainly be transported to a various world, loaded with sprawling halls, yards, yards, royal residences, art galleries, and much more. There's also a museum that offers a glimpse right into the lifestyle of the royalty. You can see the royal garments when used by Maharaja Sawai Man Singh II and also Maharaja Sawai Madho Singh I preserved at the museum.
Timings: 9:30 am to 5:00 pm; throughout the days of the week
Entry Charge: 190 (Indians); 500 (Foreign Nationals).
2. Hawa Mahal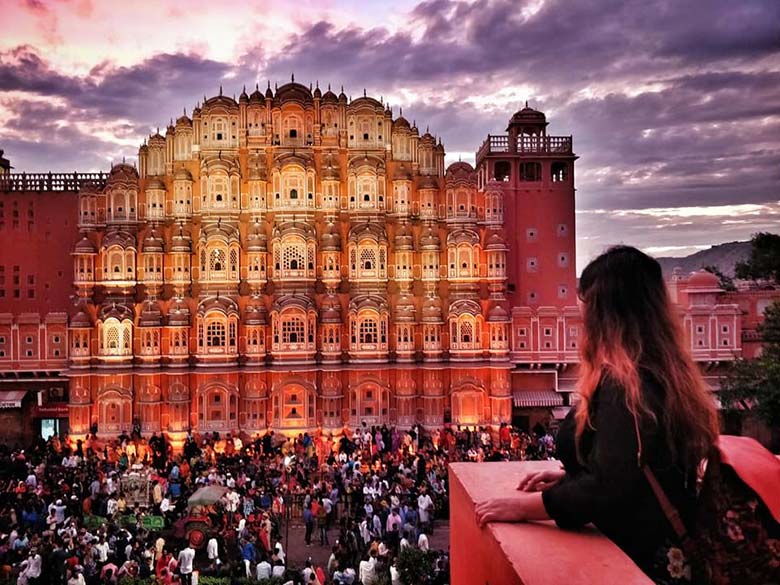 This is another architectural gem which means Palace of Wind. You might have seen it numerous times in different travel magazines, tours covering Jaipur. The palace was built to allow imperial ladies to enjoy festive events happening outdoors. It has 953 home windows and they are constructed as there will certainly be an awesome wind flowing through the palace irrespective of the period.
Ticket cost: 200 INR for immigrants, 50 INR for Indians
Visiting Hrs: 9.30 a.m. to 4.30 p.m.
Time Required: 1 hour
3. Jantar Mantar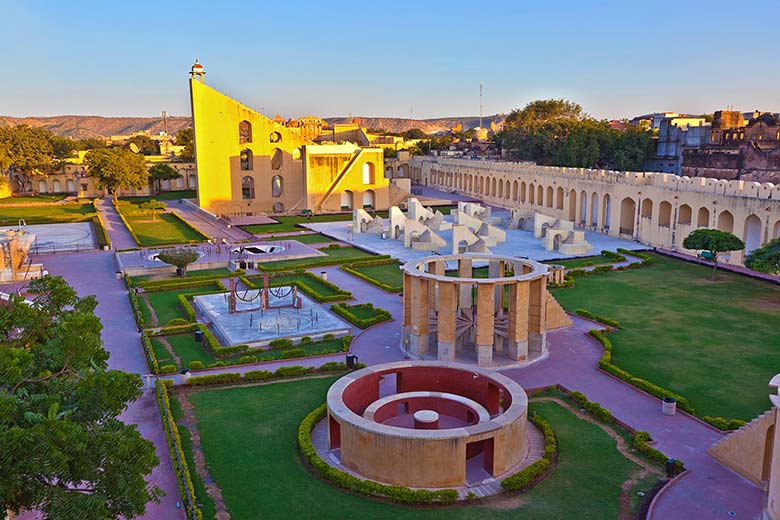 If you ask any Indian about Jantar Mantar, the first thing that will come in anyone's mind is activists fasting & fighting a cause. That's true in some cases, but that's not what why Jantar Mantar is famous.
There are 5 Jantar Mantras in India – Jaipur, New Delhi, Mathura, Ujjain & Varanasi. The very best-preserved ones remain in Jaipur & New Delhi.
Address: Gangotri Bazaar, J.D.A. Market, Pink City, Jaipur, Rajasthan 302002
Hours: Open ⋅ Closes 4:30 PM
UNESCO World Heritage Site: 2010
4. Birla Mandir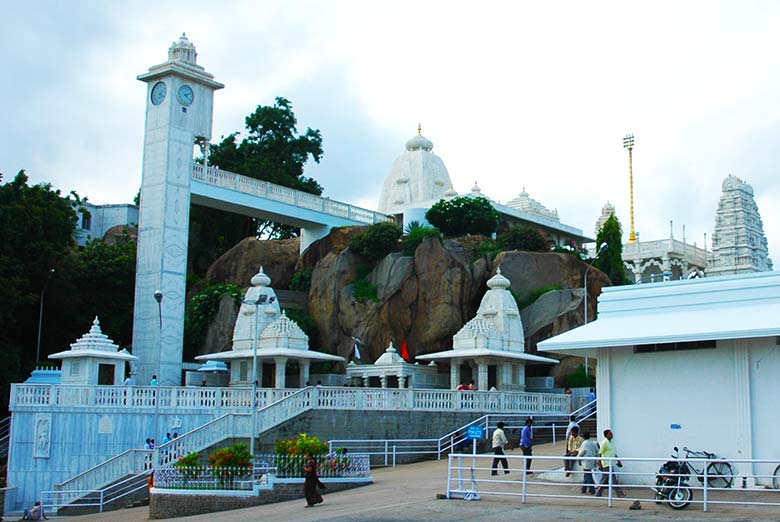 There are many Birla Temples around India; however, Jaipur's Birla Temple is just one of the best. Located on top of a hill, it is always peaceful over here. Try being here in the evening to see the beautiful aarti.
Don't forget to see the outdoors wall surfaces which have depictions of various other faiths & gods.
Address: Jawahar Lal Nehru Marg, Tilak Nagar, Jaipur, Rajasthan 302004
Famous for: Monolith Fort/ Fortress Background & Society
Entrance Fee: Free
Visiting Time: All the days of the week 6:00 AM – 12:00 PM, 3:00 PM – 9:00 PM.
How to reach Jaipur?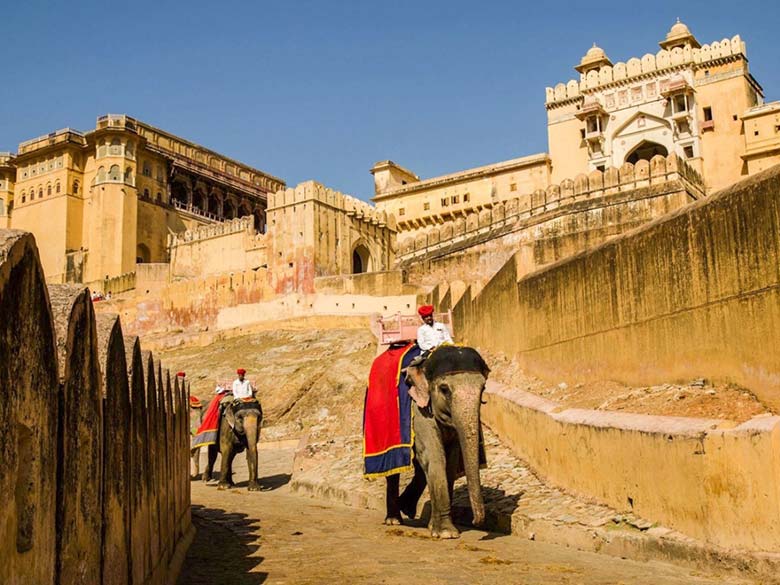 It's very easy to reach Jaipur from any part of India or the world.
Air: Jaipur is connected by almost all the major cities of India by air. If you are coming from any non-Indian city, it is suggested that you get down at New Delhi (The capital) and afterward take a taxicab to Jaipur.
Road: Jaipur has excellent road connectivity with the rest of the country. New Delhi is just 4 hrs away by road. Other important cities of Rajasthan are also in 4-6 hours radius from Jaipur.
Train: There are many super-fast & local trains going to Jaipur from various cities in India. If you are planning to go to during the peak season, book your seat in advance. The reservations begin 4 months in advance in Indian trains.
Best Time to Visit Jaipur?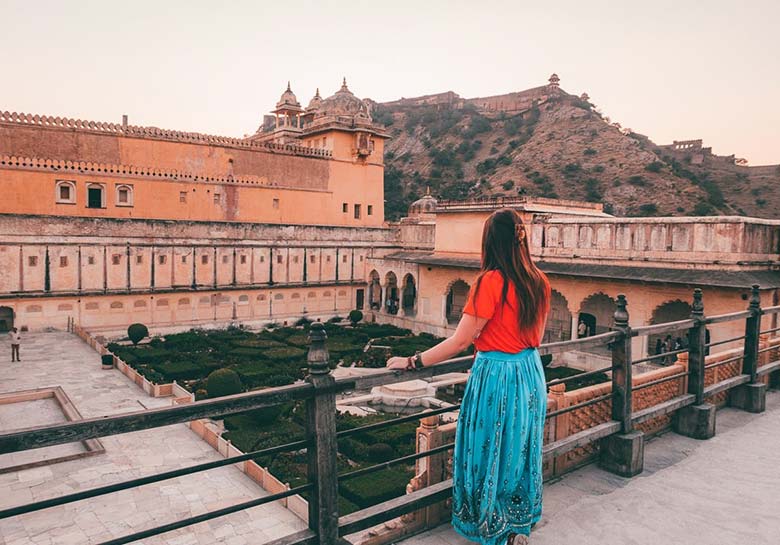 Rajasthan is a hot state. In summer, it can go up to 50* C in some parts of the state. Jaipur can obtain really hot in the summer season so the best time to visit Jaipur is from Last week of October to First Week of March. November & December being the best months in terms of climate are crowded as well.
Places to Visit Near Jaipur for 2 Days
If you are looking for to get away from Jaipur for a weekend and aren't sure about where you want to go or what you want to do, follow this 10 best places to visit near Jaipur in 2 days and also you must have a good idea.
Sariska Tiger Reserve and National Park
Ajmer
Pushkar
Nawalgarh
Alwar
Neemrana
Ranthambore Reserve
Bharatpur
Fatehpur
Mandawa